Kim Jong-nam: Malaysia to free North Korean murder suspect
Comments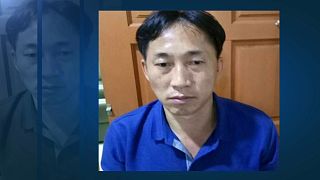 Malaysia has said it will free and deport a North Korean man held in connection with the death of Kim Jong-nam.
45-year-old Ri Jong Choi is reportedly being released due to a lack of evidence over the suspected assassination.
On Wednesday two women appeared in court to be formally charged with murdering the estranged half-brother of North Korea's leader.
They are accused of smearing VX, the world's deadliest nerve agent, on Kim Jong-nam's face in the middle of Kuala Lumpur airport.
The diplomatic fallout caused by the killing has also intensified, with Malaysian authorities announcing they will scrap visa-free travel for North Koreans coming to Malaysia.
The move ends an arrangement that typified the two countries previously cordial relations.
North Korean leader Kim Jong-un is widely suspected to have ordered the bizarre killing of his exiled half-brother, something Pyongyang has described as an absurdity.