Syrian opposition calls for direct talks with Assad regime in Geneva
Comments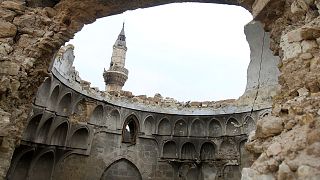 Syrian opposition delegates have for the first time called for face-to face talks with government representatives ahead of negotiations which begin today in Geneva.
Previous negotiations have been conducted through a mediator in separate rooms..
The opposition spokesman, Salem al-Muslet said he did not want this round to be like the one a year ago which was fruitless.
What the world is saying about Syria
The talks are the first UN mediated negotiations on Syria in almost a year, during which time the military situation has changed massively.
"We want to see real seriousness on the negotiations table, this is why we demand direct negotiations to save time because every day costs us and the Syrians more souls, famine and sieges."
UN mediator Staffan de Mistura said Russia, which has supported President Bashar al-Assad's military advances, has asked the Syrian government to observe a fragile ceasefire while the talks go on. Likewise the opposition should lessen provocations.
"So I am not expecting an immediate breakthrough from this round of negotiations, but the beginning of a series of rounds that should enable to go much more in depth on the substantive issues that are required for a political solution in Syria," said Mistura.
40 human rights organizations prioritize 5 key rights issues for Syria peace talks in Geneva https://t.co/qk5i1o08ofpic.twitter.com/dfX2F8GHhO

— Human Rights Watch (@hrw) February 21, 2017
Meanwhile fighting is continuing between Syrian rebels and Islamist militants in the battle for the city of al Bab. It's the jihadists' stronghold 30 km from the Turkish border.
Turkey claims to have killed 44 militants in operations around the city in airstrikes and clashes.
The self-styled Islamic State stronghold of al Bab has been a prime target since Turkey launched an incursion with Syrian rebels last August to push the jihadists from its frontier and prevent gains by a Kurdish militia.
"What if these were your children?" We appeal to all parties at #Syria peace talks in Geneva to put children first https://t.co/FyemGADIxzpic.twitter.com/TIg7xyiiYx

—

UNICEF

(@UNICEF) February 23, 2017