Deadly Storm Doris batters Britain
Comments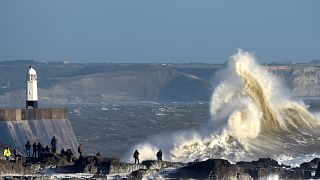 A woman in Wolverhampton has died after being struck in the head by debris as Storm Doris batters Britain.
Ambulances have been called out to casualties across the UK.
In Stoke-on-Trent, another woman was left with a serious head injury and hospitalised after being hit by a carport roof.
On the west coast, the Port of Liverpool was closed due to strong winds.
View #StormDoris from space with this satellite image showing her moving eastwards across the UK pic.twitter.com/Oa3ELPaMBj

— Met Office (@metoffice) February 23, 2017
Gusts of up to 150 kmph in some areas have wreaked havoc on transport across the British Isles.
A number of flights and trains have been cancelled. Some rail companies are imposing speed restrictions of 80 kmph as a precaution.
#StormDoris Trains are being severely disrupted today with some companies advising no to travel. More here https://t.co/MMfE51ZaS0

— National Rail (@nationalrailenq) February 23, 2017
Meteorologists say the most violent gusts are caused by a 'weather bomb' – essentially an extremely intense area of low pressure which 'explodes' when travelling beneath a powerful jet stream.
While the main region still said to be at risk of gales is the region of East Anglia, in south-eastern England, the Met Office has issued amber weather warnings for ice across central and northern England, Northern Ireland and Scotland for the end of the week.