Ukraine nationalists demand purge of government on the third anniversary of the Maidan uprising
Comments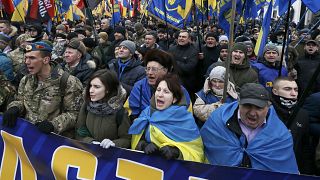 Thousands of nationalists have rallied in Kiev in a so called ''Dignity'' march demanding a purge of Ukraine's current government.
Supporters from three groups, the Right Sector, the Svoboda (Freedom) party, and the National Corp party claim nothing has changed since ex-President Viktor Yanukovich was toppled 2014.
During the demonstration the protesters chanted ''Glory to Ukraine''
"Unfortunately in the last three years we have not seen any dignity from our political leaders. Maybe, protest will make them think that dignity must not only be shown by those people who died during the Maidan uprising and those who are dying on the frontline now,'' one protester said.
The protest ended peacefully but the nationalists have threatened to dissolve parliament if their demands are not met. Those include cutting all ties with Russia and a renewal of Ukraine's nuclear status.
The latest march comes as fighting continues between Ukrainian forces and Russian-backed separatists in the east of the country. Since the conflict began in 2014 almost 10,000 people have been killed.
On Tuesday, Ukraine's president Petro Poroshenko called for new sanctions against Russia during a meeting with EU officials. His demand followed Moscow's move to recognise passports issued by separatist authorities in eastern Ukraine.