Munich Security Conference: Germany calls for a globally engaged US
Comments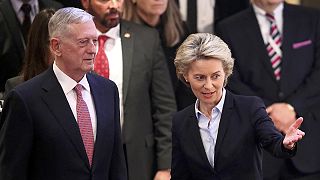 US Defence Secretary James Mattis is in Germany, along with 500 other participants, for the Munich Security Conference.
German Def. Minn v.d.Leyen says knows #Mattis stance, will listen closely to US VP #PenceMunichSecurityConference <a href="https://t.co/n4AoTqIICF">pic.twitter.com/n4AoTqIICF</a></p>— Michaela Kuefner (MKuefner) February 17, 2017
German Defence Minister Ursula von der Leyen opened proceedings, which will focus on the rise of populism threatening the international order and meeting commitments to NATO.
SecDef Mattis tells Munich Security Conference that US strongly supports NATO alliance. Good! pic.twitter.com/K7pnDJCM4y

— Joseph Nye (@Joe_Nye) February 17, 2017
In her opening address she said:"The world needs a globally engaged, responsible America. We Europeans appreciate the commitment of the United States to security and freedom on our continent. We are committed to more European relevance and a balanced trans-Atlantic security partnership."
US senator SenJohnMcCain</a>, <a href="https://twitter.com/ianbremmer">ianbremmer discuss the future of the West at the Munich Security Conference https://t.co/eHzSxu93eW#MSC2017pic.twitter.com/dpURwAtxTE

— dwnews (@dwnews) February 17, 2017
US Vice-President Mike Pence has travelled to Germany and Belgium to reassure European and Middle Eastern partners about the US commitment to NATO and the European Union.