Mattis issues ultimatum to NATO over defence spending
Comments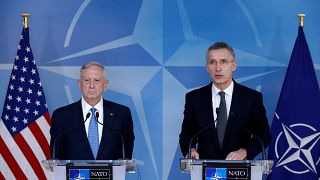 US Defence Secretary James Mattis has delivered an ultimatum to NATO – threatening to reduce support for the organisation if members do not honour their military spending commitments.
During a closed session at NATO headquarters in Brussels with the alliance's 27 other members, Mattis aired his concerns, saying that for years the US has called on members to pledge two percent of economic output on defence.
According to prepared remarks provided to journalists, Mattis said: "America cannot care more for your children's future security than you do."
No longer can the American taxpayer carry a disproportionate share of the defense of Western values.

— James N. Mattis (@realjimmattis) February 15, 2017
British Secretary of State for Defence Michael Fallon said after Mattis' address: "All members of NATO contributing a fair share of the burden. So other countries need to step up now to meet the commitment to spend two percent that we all agreed back at the Wales summit two and a half years ago."
He said that "the impatience of the American taxpayer is a reality".
President Donald Trump openly denounced the organisation as "obsolete" on the campaign trail, but has recently backtracked on his statements.
My statement on NATO being obsolete and disproportionately too expensive (and unfair) for the U.S. are now, finally, receiving plaudits!

— Donald J. Trump (@realDonaldTrump) March 27, 2016
The president has since said that he strongly supported NATO, a sentiment echoed by Mattis, who called the organisation "the most successful and powerful military alliance in modern history".