Hundreds of migrants breach border fence to enter Spanish enclave of Ceuta
Comments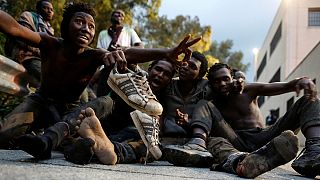 Around 500 migrants have stormed the border which separates Morocco and the Spanish north African territory of Ceuta.
According to Spain's Civil Guard, surveillance cameras showed hundreds of migrants breaking through the security fence in the early hours of Friday morning.
Others climbed the six metre barbed wire topped barrier.
Spanish media said 11 police officers were taken to hospital with injuries following the breach.
Ceuta, and Spain's other enclave, Melilla, are the EU's only land borders with Africa, making them a target for those hoping to reach Europe.
Emergency services said around 350 migrants received aid for cuts and other injuries from the Spanish Red Cross.
Local TV footage showed dozens of euphoric migrants wandering the streets of the seaside enclave celebrating their entry.