North Korea's Malaysian murder mystery
Comments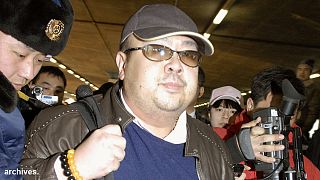 North Korean officials have objected to an autopsy on the estranged half-brother of leader Kim Jong Un, and asked to immediately retrieve the body, Malaysian government sources said on Wednesday.
Malaysia rejected the request and had yet to decide whether to hand over to North Korea the body of Kim Jong Nam, 46, who died after a mysterious assault at Kuala Lumpur airport on Monday. He reportedly told medical workers he had been attacked with a chemical spray, and South Korea's intelligence agency believes he was poisoned.
Malaysian police detained a woman holding Vietnamese travel papers, and were looking for several other foreign suspects. The young woman, wearing a white shirt with the letters "LOL" on the front, was identified from CCTV footage at the airport and was alone when arrested.
Kim Jong Nam, the eldest son of late leader Kim Jong Il, had spoken out publicly against his family's control of North Korea. He reportedly feared for his life and even wrote a letter asking to his half-brother to spare him and his son Kim Han-sol.
Kim Jong-nam was so afraid of assassins that he even begged for his life in a letter to his half brother in 2012 https://t.co/hw0RmkXoX3

— The New York Times (@nytimes) February 15, 2017
North Korean diplomats arguing about the body, while eating
KFC
Reuters reported that North Korean officials spent hours trying to talk Malaysia out of conducting the autopsy on Kim Jong Nam. His body was taken to a hospital for investigations, North Korean embassy officials followed, and were there so long that they ordered a meal from KFC, reporters at the hospital told the news agency.
Meanwhile in Pyongyang, Kim Jong Un attended a mass rally marking 75 years since his father was born. South Korean intelligence say there's little doubt he ordered the poisoning of his half-brother, following a failed attempt several years ago.
Kim Jong-nam assassination: Four things that may have sealed his fate https://t.co/naOWAIhcMqpic.twitter.com/gY5orf6rBW

— Telegraph News (@TelegraphNews) February 15, 2017