Egypt's long road to economic recovery
Comments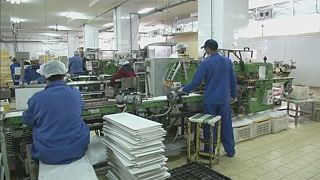 Five years on from the revolution that saw the fall of the Mubarak regime, and Egypt is still on its knees.
Things that used to cost one pound now cost five, and whatever used to cost five pounds, is now 10 pounds.

Manager, Samy Salama
Economically speaking, the people are still waiting for promises to be fulfilled.
The change they dreamed for remains elusive and, as the country endures its worst economic crisis in decades, many can barely afford the tomatoes and cucumbers that are a staple of the poor.
A perfect storm
Inflation continues on its upward trajectory, from 13 percent in September, to a massive 30 percent at the beginning of 2017.
Juxtaposed with the steady decline in the value of its currency, the Egyptian pound, which since October has doubled from just under nine to the dollar to 16, and its clear to see why every day items have become luxuries.
The plunge in currency has sparked shortages in anything imported, from medicine, to sugar – one of the only luxuries Egypt's millions of poor could afford.
And with scarcity comes price hikes. Imported staples such as wheat flour, rice, sugar, and coffee have seen costs increase by 80 percent in just a few months, while food prices in general are up 40 percent.
Egypt is one of the world's biggest food importers.
This year the country is forecast to consume close to 20 million tons of wheat, almost half of which will have to be imported.
Boom for local manufacturers
However, some businesses are thriving. Price hikes on imported goods have seen a boom Egypt's manufacturing industry.
Domestic products are far more affordable than their foreign equivalents as more and more Egyptians go local.
Chief Executive of Egyptian chocolate-manufacturer Covertina Mostafa Sayed Salam saw production increase by 19 percent in 2016 as shoppers ditch pricey imports.
An increase in tariffs on more that 300 products shipped from abroad has proved to be a nightmare for importers, but not for domestic manufacturers like Salam.
He said: "Egyptian products were able to prove themselves in the market, at the same quality of imported goods.
"It became hard for importers to sell chocolate at the old prices and therefore consumers were force to local products."
But while Egyptian-made products may suit the price conscious, importers say local producers don't have the capacity to fill the cap left by declining sales of foreign goods.
Manager of retail chain Samy Salama, Emad Maher said: "There isn't one customer who walks in without complaining. Things that used to cost one pound now cost five, and whatever used to cost five pounds, is now 10 pounds. Some prices are exaggerated and I don't know why. Is there a reason the government is letting this happen? What are their reasons? We don't know."
Difficult road ahead
Two years on from his swearing in ceremony, President Abdel Fattah el-Sisi still has much work to do.
Government subsidies on which much of the country's poor survive are eating up almost a quarter of the state budget, and, while cuts could save billions, they could also lead to backlash at the next election.
It's always a long road to economic recovery, but Egypt faces tough times ahead.
A $12 billion loan from the IMF will help them along the way, but, after years of revolutions and sporadic terror attacks, it will be hard to attract the foreign investment required to get back on it's feet.
Coupled with a severe decline in tourist footfall, which normally accounts for 12 percent of the country's GDP, bouncing back will be tough.