Swiss prepare to vote in citizenship referendum for third-generation immigrants
Comments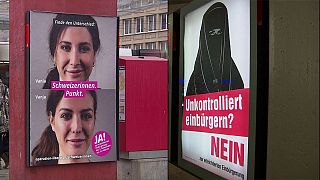 Switzerland heads to the polls this Sunday for a nationwide referendum on whether to make naturalisation for third-generation immigrants easier.
The right-wing people's party has said the measure will open the door to more Muslim immigration. Its controversial billboard poster campaign, which features a woman wearing a niqab has been denounced by critics.
The government and other opposition parties support the new citizenship proposal.
Simonetta Sommaruga, Head of the Federal Department of Justice, said: "In the end these are young people who live here, who were born here, their parents were born here, the grandparents probably came here, these are people who are at home, the only difference is, they do not have a red (Swiss) passport."
It is estimated 25,000 people in Switzerland are third generation immigrants. Nearly 60 percent of those are Italian.
Polls ahead of the ballot suggest around two-thirds of voters will say "Yes" to fast-track citizenship, which will allow those who qualify to skip several steps in the arduous process of securing a Swiss passport.