Stand-in US Attorney General vows to enforce Trump travel ban
Comments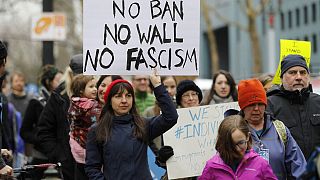 After Sally Yates was sacked as the US Federal government's top lawyer by Donald Trump, her temporary replacement has told his staff to obey the president's orders.
Sally Yates has taken a stand based on moral and legal principle

US Democratic Senator, Connecticut
The White House said that Dana Boente, US Attorney for the Eastern District of Virginia, would be Acting Attorney General until his number one choice, Republican Senator Jeff Sessions, is approved by the Senate.
Boente, whose tenure is expected to be short, has told lawyers to obey the president, saying in an interview with the Washington Post that he would enforce the immigration order.
In a statement posted on Facebook, President Trump described Yates as "weak on borders and very weak on illegal immigration".
Statement on the Appointment of Dana Boente as Acting Attorney General: https://t.co/fkAWOmnrsP

— President Trump (@POTUS) January 31, 2017
Tributes have been paid to the sacked lawyer, who had defied the president over his travel ban, saying in a letter that she was not convinced the restrictions were lawful.
"I want to salute Sally Yates, who has taken a stand based on moral and legal principle in the highest tradition of the Department of Justice, saying that these orders cannot be defended; that the rule of law and morality is more important than the politics of the moment, and the impulsive edicts of a ruler who apparently fails to understand that law, or at least his administration does," said Democratic Senator for Connecticut, Richard Blumenthal.
Protests against Trump's immigration ban on refugees and people from some mainly Muslim countries continued on Monday night, in Washington and elsewhere.
In Columbus, hundreds marched through the streets of the Ohio capital and stood in traffic for several minutes – until police used pepper spray to disperse them.
Who is new acting attorney general Dana Boente? https://t.co/mBnVehQCV6

— Washington Post (@washingtonpost) January 31, 2017