Theresa May confirms Trump state visit despite travel ban protests
Comments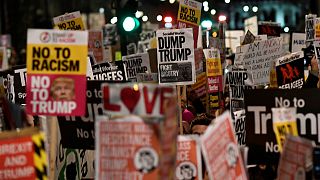 Tens of thousands of people in cities across the UK have joined protests against President Trump's travel ban on refugees and seven mainly Muslim countries.
Outside 10 Downing Street in London many expressed their concern that Prime Minister Theresa May had failed to criticise Trump sufficiently.
Kate Allen, Director of Amnesty International UK was among the protesters:
"This is a ban on Muslims entering America, it is a ban on all refugees (…) And we're here outside Number 10 because we want our Prime Minister, Mrs May, to make it really clear to President Trump: there is a special relationship, use that special relationship to say this must stop, the decision that he's taken must be revoked."
Crowds still gathering outside Downing Street. Whitehall is packed. Are you listening, theresa_may</a>? <a href="https://twitter.com/hashtag/StandUpToTrump?src=hash">#StandUpToTrump</a> <a href="https://twitter.com/hashtag/nomuslimban?src=hash">#nomuslimban</a> <a href="https://t.co/R82V18qT0z">pic.twitter.com/R82V18qT0z</a></p>&mdash; Amnesty UK (AmnestyUK) January 30, 2017
While on a trip to Dublin Theresa May did say the UK takes a different approach from the Trump administration but stood firm on an invitation to the US president to visit Britain.
"I have issued that invitation, informally issued that invitation for a state visit for President Trump here to the United Kingdom, and that invitation stands," said the UK premier
Last week May was the first world leader to be invited to Washington by the new US president.
Since then a petition calling for the cancellation of a return Trump visit has gathered more than 1.5 million signatures.
Tuesday's TheScotsman</a> front page: May stands firm over Trump state visit despite protests <a href="https://twitter.com/hashtag/bbcpapers?src=hash">#bbcpapers</a> <a href="https://twitter.com/hashtag/scotpapers?src=hash">#scotpapers</a> <a href="https://t.co/Tmirl7OJMY">pic.twitter.com/Tmirl7OJMY</a></p>&mdash; The Scotsman (TheScotsman) January 30, 2017