Dismay in Israel at guilty verdict for soldier
Comments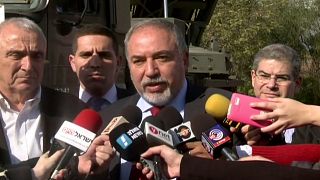 The trial of Elior Azaria has split the country, with many saying the young sergeant should never have faced prosecution for doing his duty and protecting Israelis from attack.
Some say he is nothing more than a murderer, while he is a hero to others.
"Despite the difficult verdict, the first thing I ask from us all – from those who are in favour of this verdict and from those who like the verdict much less, including myself – we are all obliged to respect the legal decision, we are all obliged to keep restraint," said Israeli Defence Minister Avigdor Lieberman.
Elor Azaria, an Israeli soldier who shot a wounded Palestinian, was found guilty of manslaughter https://t.co/dGTjhnfeeZpic.twitter.com/zKmlCWF2VB

— The New York Times (@nytimes) January 4, 2017
The hardliner has been a constant supporter of Azaria's, and outside the court few seemed to disagree with the minister.
"I hope that the president or the chief of staff will pardon him very quickly. The first day he goes into jail, the day after that he should be pardoned," said one Jerusalem man.
"It is a disgrace to the state of Israel to treat the soldier like this. It is a total disgrace. The whole world is laughing at us. In no other country in the world can such a situation happen – when a terrorist attacks us and somehow is killed, and this should be done to the soldiers. The attacker should stand trial," said another local man.
The army insists the shooting cannot be condoned and that it was done in cold blood and outside military procedures. It has also noted Azaria's far-right, anti-Palestinian views expressed before the army medic was conscripted.