Turkey mourns again after 14 soldiers die in car bomb blast
Comments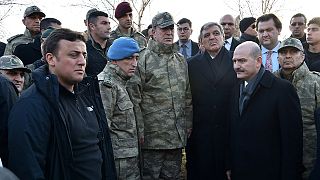 Ultra-nationalist protesters have rallied in Kayseri in central Turkey, hours after a huge car bomb attack killed 14 soliders in the city.
Gathering outside the regional governor's office, demonstrators called for revenge.
Turkey's president Recep Tayyip Erdogan has accused the PKK, or Kurdistan Workers Party, of carrying out the strike, which also wounded 56 other people – several seriously.
Later Turkey's top military brass, along with families of the dead soldiers, held a ceremony at Kayseri airport.
Seven people have been detained and five are being sought in connection with Saturday's blast which had targeted a bus the military personnel were on.
The explosion comes only a week after a twin bombing in Istanbul at a football stadium killed more than 30 police officers.
It is also sure to raise security fears inside the country following a string of attacks blamed on both Kurdish separatists and ISIL.