Russia needs 'friends' not 'enemies' Putin addresses the nation
Comments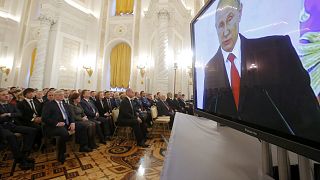 Russian President Vladimir Putin has addressed parliament in his annual in his annual speech to the nation.
Vladimir Putin says Russia hopes to 'normalise' relations with the United States. Progress at last https://t.co/sWRKnYKI8s

— David Vance (@DVATW) December 1, 2016
At a time of political and economic insecurity Putin sought to reassure his audience both in the Russian capital and beyond that Russia is committed to peace and cooperation, but will defend Russian interests.
On Conflict
"Russia does not need conflict neither do our partners or the international partners. Compared to others who see us as opponents, we do not seek and never look for enemies. We need friends."
On Trump
"We are prepared to cooperate with the new US administration. It is important to normalise and start to develop the bilateral relations, on the principle of equality and a mutually beneficial basis. The cooperation between Russia and US in solving local and global problems will be in the interest of the whole world."
On Terrorism
"I certainly hope we can join forces with the US in fighting the real not imaginary threats which is international terrorism. This is exactly the task that our military is trying to solve in Syria. The terrorists have suffered great losses. The army and the navy of Russia has proved convincingly that they can work effectively far from home."
On Russia
"The future of our country depends on ourselves, on our hard work and the talents of all our citizens along with their responsibilities and successes we will achieve our goals."