Syrian army forces 'retake' key district in eastern Aleppo
Comments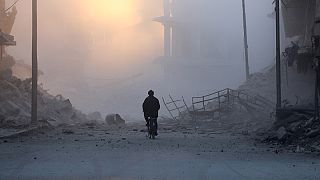 Hundreds of residents of eastern Aleppo have fled the shifting front lines, as Syrian government forces continue their push to cut the rebel-stronghold in two.
The regime forces reportedly took control of the Hanano housing district, on the northeast frontline of the besieged city.
The insurgents fear that the north will be cut off from the south, which would weaken their control, and bring more civilians closer to the battle zone.
Elsewhere, in the northern Syrian town of al-Rai a blast ripped through a street, believed to be a suicide bombing by ISIL militants. Several people reportedly died and a dozen were injured and taken to a nearby hospital in Turkey.
Situated 2km south of Turkey's Kilis border province, al-Rai is an area under the control of Turkish-backed rebels, recaptured from ISIL as part of Ankara's 'Euphrates Shield' operation which has turned its sights to al-Bab.
The Turkish army reported that ISIL militants fired a rocket which caused symptoms similar to chemical gas exposure in 22 Syrian rebels, though later analysis showed it was a tear-gas like substance.