Hillary Clinton ''confident'' over new FBI email probe
Comments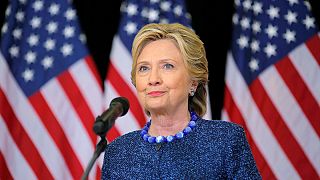 Hillary Clinton has said she's ''confident'' that the latest FBI inquiry into newly discovered emails related to her time as Secretary of State will not result in her being prosecuted.
In July the bureau cleared Clinton of criminal wrong-doing, but in a letter to Congress on Friday, FBI Director James Comey said new messages had come to light.
Clinton called on the FBI chief to explain the new inquiry without delay.
"The American people deserve to get the full and complete facts immediately. The Director himself said he doesn't know whether the emails referenced in his letter are significant or not. We don't know the facts, which is why we're calling on the FBI to release all the information that it has," Clinton said.
The latest emails were reportedly discovered on electronic devices belonging to Clinton's top aide Huma Abedin and ex-her husband, former disgraced congressman Anthony Weiner.
The four devices were seized by the FBI as part of a separate investigation into whether Weiner had sent sexually explicit emails to a 15-year-old girl in North Carolina.
At a rally in New Hampshire, Republican rival Donald Trump praised the law enforcement agency for its latest inquiry into what he described as Clinton's criminal conduct.
"This is bigger than Watergate. Hillary Clinton's corruption is on a scale we have never seen before. We must not let her take her criminal scheme into the Oval Office," Trump said.
With just days to go before the election and Trump lagging in the polls, the news that Clinton is once again being investigated for possibly mishandling classified information is seen as a major boost for Trump.