Obama goes to Florida for Clinton amid new email probe
Comments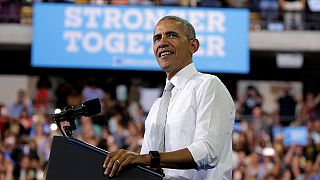 Amid the latest probe into Hillary Clinton by the FBI, Barack Obama urged democrats in the key battleground state of Florida on Friday to work hard and not take victory for granted.
The president's campaign push is part of a tandem effort with his wife, first lady Michelle, to elect his onetime rival as his successor.
"I don't know about you, but I'm not tired I'm feeling good. I'm ready to work and I need you to join me. So I'm here today, Florida, to ask you to work hard, as you did for me, to make sure that Hillary Clinton is the next president of the United States of America".
Obama is expected to spend almost every day on the campaign trail in the final week leading up to the election on November 8.
Stephan Grobe, Euronews, Washington
"With less than 2 weeks to go, the White House is switching into full-campaign mode. Barack Obama's Friday rally in Florida marked just the beginning of an almost constant presence of the President on the trail, in the final days before election day. No other incumbent before him has fought so aggressively on behalf of his successor as his party's nominee. Obama may not be on the ballot, but it is his legacy that is at stake. A legacy that Donald Trump has vowed to destroy in record time. Meanwhile Trump is showing renewed confidence as some battleground polls indicate some tightening. Yet Trump is facing a huge cash disadvantage on the homestretch, according to the latest campaign finance reports. He might be the first billionaire, whose campaign runs out of money by election day."