'Beware of complacency' says Clinton
Comments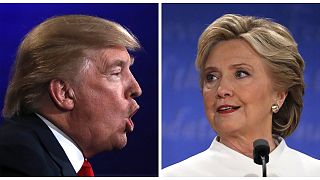 'Take nothing for granted' – that's the message from Democratic presidential candidate Hillary Clinton. Her campaign's been boosted by new national opinion polls but while on a visit to Florida she was still urging people out to vote.
Meanwhile her rival Republican Donald Trump who was also in the key swing state was bemoaning his party's lack of unity. He claims he'd be winning easily if Republican leaders would lend a hand.
Euronews' Washington correspondent Stefan Grobe summed up where we are at in the US presidential race:
"The presence of both candidates in Florida shows the importance of this crucial battleground state where early voting has just begun. And it does not bode well for Donald Trump. Republicans are only ahead of Democrats by less than two percent, compared to a 5.3 percent lead at this point four years ago. That's largely on the back of a 99 percent increase in Latino voting compared to this time in 2012. In raw numbers: More than 130,000 Latinos have already voted in Florida. The Clinton campaign believes that most of these votes have gone to them, as Latinos are largely repudiating Trump for his rhetoric and policies throughout the campaign season. In Arizona, a traditionally Republican state also with a sizable Latino population, the numbers don't look good for Trump, either. Yet, the Clinton campaign does not want to hear talk about a landslide. They fear that people prematurely think Clinton has it in the bag."
As Trump makes an unprecedented attack on our democracy, millions of people are registering and voting early. https://t.co/tTgeqxNqYm

— Hillary Clinton (@HillaryClinton) October 25, 2016
Get your ballots in Colorado – I will see you soon — and we will win!#MakeAmericaGreatAgainpic.twitter.com/oDLvZg7MLk

— Donald J. Trump (@realDonaldTrump) October 25, 2016
Opinion polls updated October 24.