Few gains in first week of battle for Mosul
Comments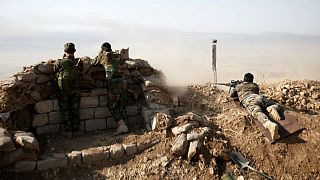 Coalition forces edge closer to Mosul in Iraq, as the battle to take the city from ISIL enters its second week.
The front line is slowly shifting with Kurdish forces moving from the east and the Iraqi government troops from the south.
Around the newly recaptured town of Bartella, Iraqi special forces began shelling IS positions in the early hours of Monday morning.
Kurdish Peshmerga fighters said that they had advanced on ISIL, coming to within nine kilometres of Iraq's second largest city.
The gains come after ISIL's attempt at diverting attention away from Mosul, with suicide attacks on Rutba and Kirkuk.
Over the last week, Iraqi forces and Peshmerga fighters, under air cover from the U.S.-led anti-Islamic State coalition have been battling ISIL militants in mainly uninhabited towns and villages, facing off threats of roadside bombs, suicide attacks and snipers.
It is expected to take weeks, if not months to recapture Mosul. It was captured in 2014 by ISIL and was where the militant group declared its 'caliphate'.
Turkey
With the Mosul offensive underway, a row has erupted between Turkey and Iraq, after Ankara said it had fired artillery rounds at ISIL positions near Mosul in response to a request by Peshmerga forces. However, Iraq's mission command denied the claims.
Turkish Foreign Minister Mevlut Cavusoglu said 17 IS militants had been killed in artillery fire, and he added that four F-16 fighter jets were on standby. Turkey wants to play a bigger role in the Mosul offensive, but Iraq's premier Haider al-Abadi declined their offer on Saturday.