Fighting resumes after ceasefire in Aleppo
Comments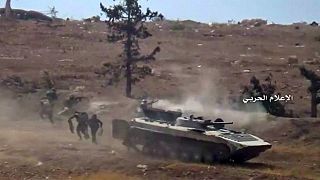 The battle for control of the northern city of Aleppo has intensified with air strikes, ground offensives and shelling.
Monitors say it comes the morning after a resurgence in fighting ended a Russian ceasefire.
Russia had declared a unilateral ceasefire from Thursday which was rejected by the rebels.
It lasted three days and did not result in hoped-for medical evacuations from the city or deliveries of aid.
Syria: heavy clashes mark end to Aleppo ceasefire https://t.co/c3XfRmXemr

— The Guardian (@guardian) October 23, 2016
"Fierce fighting"
There has been fierce fighting between insurgents and Syrian government and allied forces along a strategic frontline in southwest Aleppo.
In August, rebels briefly broke through the government-held strip of land to try to break a siege on rebel-held eastern Aleppo.
The Syrian Observatory for Human Rights says there was heavy rebel shelling onto the government-controlled Hamdaniya district.
"Air strikes"
Air strikes within the city stopped for three days but resumed late on Saturday as the third day of the truce expired.
Syrian or Russian air strikes hit a number of rebel-held areas just west of Aleppo city from dawn on Sunday.
Air raids also hit north and west of the city, monitors say.
Why Aleppo?
Aleppo has been a major battleground in the Syrian conflict, now in its sixth year.
Syrian President Bashar al-Assad, backed by the Russian military, Iran's Revolutionary Guards and groups of Shi'ite Muslim militias wants to take full control of the city.
The Red Cross have filmed the devastation seen on the way into Aleppo pic.twitter.com/d53SibgR8d

— The Telegraph (@Telegraph) October 23, 2016
FSA

warning
The Free Syrian Army (FSA) rebel alliance says it is preparing for a big attack to break the siege of eastern Aleppo.
In a statement on Saturday, the alliance warned residents in and around the city to stay away from Syrian government military buildings for their own safety.
The FSA says it has repelled various offensives by government and allied forces along the frontline separating rebels from government-held Aleppo city late on Saturday.