Mosul: Turkey supports Peshmerga forces in the fight against ISIL
Comments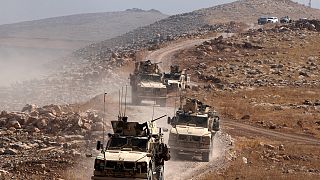 Iraqi forces have taken two more villages from ISIL jihadists as they push on towards Mosul.
At the same time Kurdish Peshmerga fighters claim to be within 8 kilometers of the key Iraqi city.
A coalition of 100,000 troops has been closing in on Mosul on three sides since last week.
Iraqi Brigadir Nijem al-Jabour, calling the jihadists by one of their several names, claimed it was the end of the militants:
"ISIS collapsed, ISIS now their morale is very down. You can read on the faces of the soldiers and the civilians with us, their morale very high, and I think this is the end of ISIS."
The UN says that 5,000 people have been displaced so far by the fighting and that it expects another 200,000 in the coming weeks.
But not everything is going to plan. One Kurdish Peshmerga commander has complained of a lack of air support from the US-led coalition slowing up progress on one front.
Peshmerga completely control Bashiqa, says spokesperson #MosulOffensivehttps://t.co/0TXH5R2Hqw

— Rudaw English (@RudawEnglish) October 23, 2016
Meanwhile Turkish Prime Minister Binali Yildirim has revealed that Turkish artillery was now lending support to Kurdish Peshmerga fighters.
Ankara claims the Peshmerga had asked for help as they began an onslaught against the town of Bashiqa. The town is close to a military base where Turkish troops are training Sunni Muslim fighters.
The artillery support could further strain relations between Ankara and the Baghdad central government, coming a day after Iraqi Prime Minister Haider al-Abadi declined an offer from Turkey to take part in the Mosul campaign.