Iraqi city of Kirkuk attacked by suspected ISIL fighters
Comments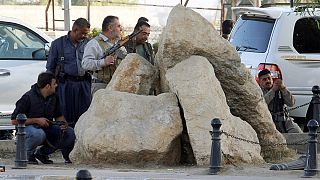 Fighting has broken out in Iraq's northern city of Kirkuk after suspected ISIL gunmen attacked several buildings, including a police compound and power station.
Officials say at least eight security personnel have been killed.
Local TV broadcast images showing open gun battles in the oil rich city, which was also rocked by multiple blasts.
The attack in Kirkuk comes as Iraqi pro-government forces make a major push to drive ISIL out of the country's second-largest city Mosul.
That offensive is reported to be progressing faster than planned after the fall of Bartella, some 15 kilometres from the city. Mosul is ISIL's last main stronghold in Iraq.
Backed by extensive coalition air power, the push to recapture Mosul is expected to become the biggest battle fought in Iraq since the 2003 U.S.-led invasion.