Iraq PM hails swift progress of Mosul offensive
Comments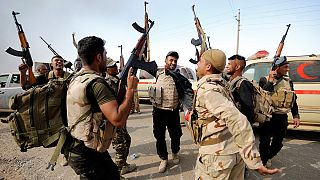 The campaign to recapture Mosul from so-called Islamic State is going faster than planned, Iraq's prime minister said on Thursday, amid fresh fighting to clear villages on the outskirts of the city.
Now thank God it is much better
Sweeping gains are being reported in a multi-pronged assault by Iraqi government forces and Kurdish Peshmerga fighters – the latter mounting a major offensive to Mosul's north and east.
They have been battling ISIL around the Mosul dam while the Iraqi army moves up from the south. Despite gains, amid fierce resistance from the jihadists, the operation still has a long way to go.
Iraq forces move to retake Christian town on way to Mosul. By @Kilicbil#AFPpic.twitter.com/8OBYVwObUy

— AFP Photo Department (@AFPphoto) 19 octobre 2016
But Iraqi Prime Minister Haidar al-Abadi, addressing anti-ISIL coalition allies meeting in Paris by a video link, said: "The forces are pushing towards the town more quickly than we thought and more quickly than we had programmed."
The US-led coalition is providing air and ground support to forces closing in on the city – ISIL's last major stronghold in Iraq – in an operation that began on Monday.
The Kurdish and Iraqi army advance has brought freedom to families who had been forced to live under the extremists' rule.
"Of course things are much better now. Before we were unable to come and go as we pleased. We were trapped. We had no food, no water. Now thank God it is much better," said one woman, from newly-liberated Khalidia village near Mosul.
Another resident of the village, Waqqad Mohammed, spoke out as he held a small child.
"The situation was tragic because of Daesh," he said.
"They would not even let us tend to our sheep. They would hit us daily, asking us about our beards and clothes. They beat us the other day because the sheep left the village."
On reaching Mosul, it is though Kurdish and Iraqi forces could face up to 5,000 fighters of ISIL, also known as Daesh, although reports suggest militants, including the group's leaders, are fleeing to their self-declared caliphate's capital of Raqqa in Syria.
#UPDATE US general claims IS leaders 'abandoning' Mosul https://t.co/OMd5GXkmF0

— AFP news agency (@AFP) 19 octobre 2016