Iraq's displaced Christians encouraged by drive to oust ISIL from Mosul
Comments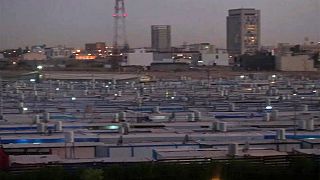 While the UN has said it's deeply concerned about civilians displaced by fighting amid the offensive to retake Mosul, one group of displaced Christians are watching events closely.
Hopefully we can go back home because we are not comfortable here

Displaced Christian in Iraq
Neat rows of trailers in the Ankawa neighbourhood on the outskirts of Erbil in Iraq's Kurdish region shelter some 5,000 people.
Many fled the area around Mosul when the city fell to the self-styled Islamic State in August 2014.
Now as they see ISIL being ousted there's excitement and some trepidation.
"We are so happy, and hopefully we can go back home because we are not comfortable here. We feel stuck here, and there's nothing like being home," said one displaced woman and camp resident, Intisar Mateh.
Most of the inhabitants displaced from Mosul are living in camps in the Kurdish region in Iraq. Hundreds of others fled to neighbouring countries and further afield.
Families here are glued to the TV, often day and night, tracking events.
"We are scared, in case it doesn't go back to normal when they clear the area. Daesh (ISIL) has been there for two years, maybe there are explosives, IEDs (improvised explosive device) or bombs. So we are in a wait-and-see mode right now," said Raeda Paulos, another woman living in the camp.
Earlier this week Christians in Ankawa celebrated as Iraqi forces fought to liberate the town of Qaraqosh south of Mosul, which was once the largest Christian town in Iraq.
Many are looking forward to seeing Mosul itself freed from the extremists.