Yemen ceasefire hours away ''if all sides agree'', UN special envoy says
Comments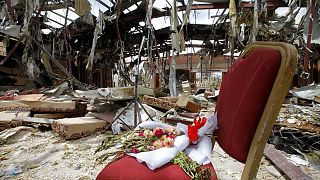 The UN's special envoy to Yemen has said he expects a ceasefire to come into effect within hours in the Arab country if all sides agree.
It follows a call from the US and Britain for an immediate and unconditional cessation of hostilities in Yemen in a bid to end violence between Iran backed Houthis and the government, which is supported by Gulf states, notably Saudi Arabia.
''Everybody supports this idea, it's becoming very urgent when we see the dramatic events of last week – the funeral attack, we realise how much it's important today for the population to have a cessation of hostilities," the UN's Special Envoy to Yemen Ould Cheikh Ahmed said.
The Saudi-led campaign in Yemen has come under heavy criticism since last week's airstrike on a funeral gathering in the capital Sanaa.
140 people died in the bombing and more than 500 were injured according to UN estimates.
Fighting between the Saudi coalition forces and Houthi rebels has intensified since August after peace talks in Kuwait ended without agreement.