Five Chechens go on trial for murder of Kremlin critic Boris Nemtsov
Comments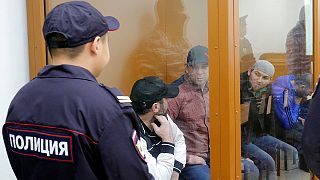 Five Chechen men accused of the murder of opposition politician Boris Nemtsov have gone on trial in Moscow.
The defendants who were allegedly promised cash to carry out the killing deny the charges.
A critic of President Vladimir Putin, Nemtsov was shot dead last year near the Kremlin. Lawyers for his daughter say the investigation has failed to uncover who ordered the shooting.
Russia has seen several killings of high-profile politicians and journalists. But the country has a long history of prosecuting alleged hit-men and then failing to follow the chain of command upwards to discover who ordered the murder or why.