Orlando gunman mosque is set ablaze
Comments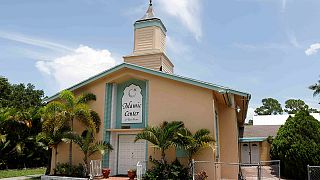 Police in Florida are investigating a fire at the mosque where the Orlando gunman, Omar Mateen used to pray.
The mosque blaze was so severe it burned a hole in the building's roof.
Officers are analysing surveillance cameras which filmed a suspect at the mosque moments before the fire started.
Police believe it may have been timed to coincide with the Muslim holiday of Eid and the anniversary of 9/11.
Mateen committed the worst mass shooting in modern American history in June killing 49 people when he opened fire in Pulse nightclub. He was shot dead by police after taking hostages and declaring his allegiance to the self-styled Islamic State group.