Gas allegedly used by Syrian government forces in latest Aleppo bombing
Comments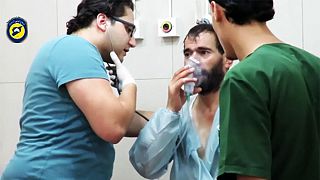 Medical sources in the besieged Syrian city of Aleppo say that President Assad's forces may have again used chlorine bombs in a gas attack on a rebel-held residential district.
Doctors report dozens of cases of suffocation as local hospitals rapidly filled with panicked people. A rescue workers' organisation, Syrian Civil Defence that operates in rebel-held areas claimed some 80 people needed treatment, and that government helicopters had dropped barrel bombs containing chlorine gas on Sukari in eastern Aleppo.
A UN report found last month that Syrian government forces had previously used toxic gas in attacks in 2014 and 2015 involving chlorine. The Syrian government has denied using chemical weapons in its five-year civil war. The army was unavailable for comment.