UK and France hold Calais talks
Comments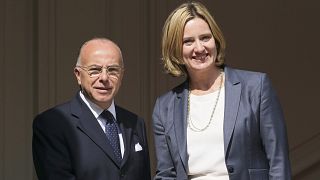 Amid pressure to scrap UK border checks in France, British home secretary Amber Rudd has held talks with her French counterpart Bernard Cazeneuve in Paris.
Presenting a united front, the two ministers pledged to improve the migrant situation in the port of Calais and ordered a fresh security review there.
The talks came after several French politicians on the right, including French Presidential hopeful Nicolas Sarkozy, called for the current UK-French border deal, known as Le Touquet, to be torn up.
''For all those, who are here in Calais and want to go to the UK, then it should be for the British to examine their claims in Britain. It shouldn't be France's job to decide whether they have a right to enter the UK.''
Other politicians in France have raised the prospect of setting up a so-called 'hotspot' processing centre in Calais to lodge UK asylum claims.
But British officials seeking to resist changes to the current arrangement are said to have dismissed that plan as a ''complete non-starter''.