For Britain migrants begin, and stay, in Calais, but France's patience wears thin
Comments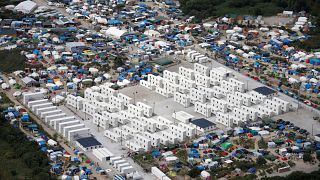 Calais's squalid migrant centre is at the heart of talks between the French and British Interior Ministers, but the problem goes way beyond the camp and has now lasted for nearly 20 years.
It did not take long for the camp to aquire its nickname of the "jungle". Always under-resourced, its is now nearing its 10,000 capacity and is close to implosion.
Most people here have only one dream, the British dream, and that is the only reason they are here.
But the keys to the kingdom are on French soil. Last March, well before the Brexit vote, the French president reminded his partners that this anomaly remains problematic.
"There will be consequences if Great Britain leaves the European Union. There will be consequences in a lot of areas, including the question of people," said François Hollande.
Calais was already a subject of talks when Hollande said this, but the problem goes back to 2002.
At that date the jungle has yet to explode into life, but the Red Cross camp set up at Sangatte in 1999 to care for the trickle of refugees and migrants can only take in 200 people. That capacity is rapidly overwhelmed by a surge of mainly Iranian, Iraqi, Kurdish, Kosovar and Afghan nationals.
Britain's Interior Minister David Blunkett puts pressure on his French opposite number of the time, Nicolas Sarkozy to find a solution. Sarkozy closes the camp in December 2002, but this does nothing to solve the problem. The flow of people arriving remains constant.
So in February 2003 the two ministers sign the Touquet Agreement, which includes a deal that says Britain, as a non-signatory of the Schengen Free movement accord, can have its border in Calais to better regulate the migratory flow. Applicants for entry will now be interviewed on French soil, within Schengen, not in Dover. People rejected entry will have never set foot on British soil in the first place. No-one forecast that there would be so many people.
Today some politicians in France, presidential candidates or otherwise, are calling for the Touquet Agreement to be torn up and the Dover border restored, and for Britain to manage the flow of people so keen to reach its shores for asylum or a fresh start.