Thousands of homes under threat from southern California wildfires.
Comments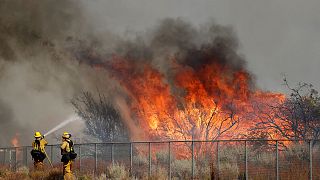 The emergency services in Southern California say they are fighting a total of eight wildfires.
Explosive fire growth is the new normal this year
The worst has been raging unchecked in very dry thick brush just north of the city of San Bernadino, driven by strong winds, gusting to over 110 kilometres an hour.
One thousand firefighters are battling the blaze, which has been named the Blue Cut fire after a trail in a narrow gorge where it started on Tuesday.
#BlueCutFire [update] north of San Bernardino (San Bernardino County) is now 30,000 acres. https://t.co/I8T8YeiGpzpic.twitter.com/lqBzSkX5RP

—

CAL

FIRE

(@CAL_FIRE) August 17, 2016
It has already destroyed an unknown number of houses near a major road connecting Los Angeles with Las Vegas and officials say more than 30,000 homes remain under threat.
The road – Interstate 15 – was partially closed.
Over 80,000 people have been told they must leave their homes in a mandatory evacuation.
"It's to the point where explosive fire growth is the new normal this year," Glenn Barley, a fire chief with the San Bernardino unit of the California Department of Forestry and Fire Protection
Nearly 1,000 kilometres northwest of there the authorities said the so-called Clayton Fire was 40 percent contained.
It has destroyed 175 homes and businesses and one person has been arrested and charged with arson over that blaze.
#ClaytonFire. [update] Lower Lake area (Lake County) is now 3,929 acres and 40% contained. https://t.co/HkmjMdAKyRpic.twitter.com/prAmZz8oSe

—

CAL

FIRE

(@CAL_FIRE) August 17, 2016