Wildfire near Los Angeles forces 80,000 people to evacuate
Comments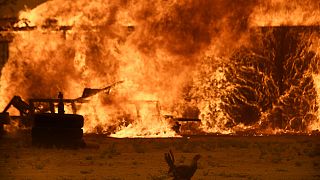 A fast moving wildfire in southern California has forced the evacuation of more than 80,000 people just east of Los Angeles.
Around 700 firefighters are struggling to contain the so called Bluecut blaze in San Bernardino County which has already engulfed 15,000 acres.
Fueled by fierce winds and high temperatures the fire broke out on Tuesday ripping through rural communities.
Tens of thousands of homes remain at risk and a state of emergency has been declared in order to free up vital federal aid.
The latest fire in the southern part of the state follows another blaze in the North of California. That saw 175 homes and businesses destroyed. A 40-year-old man has been arrested for suspected arson in connection with that fire and several other incidents.
Meanwhile, a firefighter captured a "fire whirl" or "firenado" on Sunday while battling the 36,000-acre Beaver Creek fire in Routt National Forest in northern Colorado. The phenomenon occurs when rising heat combines with turbulent wind. The Beaver Creek fire was first detected on June 19. Its cause is unknown.