Wildfire rages unchecked in California
Comments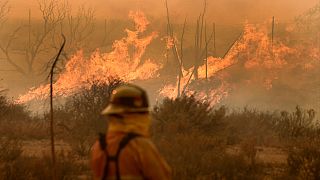 Because the fire is being driven by a very strong wind, sparks are flying and landing kilometres ahead of the flames

US Forestry Service spokesperson
Hundreds of firefighters are battling a rapidly-spreading wildfire raging unchecked in drought-stricken Southern California.
The Bluecut Fire broke out on Tuesday morning.
It has spread to cover an area of more than seven thousand hectares.
"This is the fifth year of a severe drought.This means there is very little moisture in the undergrowth so it is very likely that a fire will start. Because the fire is being driven by a very strong wind, sparks are flying and landing kilometres ahead of the flames. That is why people have been evacuated from their homes which are in the path of the fire," said *US Forestry Service spokesperson
Chon Bribiescas*.
Evacuations
The authorities have issued evacuation orders for 82, 640 residents and around 34,500 homes near Interstate 15.
A stretch of the main freeway between Las Vegas and the Los Angeles area has been closed indefinitely.
Has anyone been hurt in the fire?
Two firefighters were trapped by the flames when they were trying to evacuate residents from their homes.
Officials say they escaped with minor injuries.
Do they know what caused the fire?
Not yet.
The cause of the blaze is under investigation.
What about the Clayton fire?
Crews are making headway against the Clayton fire, which is burning more than 970 kilometres to the north.
It has already destroyed more than 175 homes and businesses.
Officials say the fire is 35 percent contained. Almost two thousand hectares have been destroyed around the area of Lower Lake.
A 40-year-old man has been arrested in connection with starting the blaze.
In tweets
#BlueCutFire in the Cajon Pass (San Bernardino County) is now 15,000 acres. 15 & 138 closed. Photo: crimeshutterbug</a> <a href="https://t.co/hDNUGpRuJU">pic.twitter.com/hDNUGpRuJU</a></p>&mdash; CAL FIRE PIO Berlant (CALFIRE_PIO) August 17, 2016
#BlueCutFire late afternoon. #SOE in San Bernardino Cty JerryBrownGov</a>. 82k evacuated/9k acres/0% contained <a href="https://t.co/R3wOyZYwFD">pic.twitter.com/R3wOyZYwFD</a></p>&mdash; Lauren Pak (lauren_pak) August 17, 2016
A plane dumps fire retardant on the Blue Cut Fire in San Bernardino County, Calif. -NBCLApic.twitter.com/CSbNDvFv9O

— Breaking911 Weather (@B911Weather) August 17, 2016
PHOTOS: Crews battle the now 2,500-acre #BlueCutFire in the San Bernardino National Forest https://t.co/QBF2FY99ttpic.twitter.com/nL5O5QWacD

— ABC7 Eyewitness News (@ABC7) August 16, 2016