Greece plans new migrant facilities amid claims of 'dirty' and 'unsafe' conditions
Comments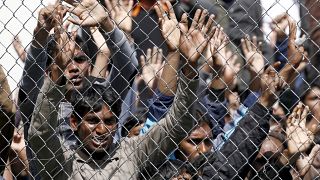 Greece is reported to be planning new shelters, to help ease increasing pressure on overcrowded migrant camps.
We would like the EU immediately to step up its resources for the Greek authorities

Save the Children
More than 10,700 people are packed into existing facilities on five Greek islands – far exceeding capacity – as they wait to find out whether they can stay in Europe.
Campaigners say conditions are "disgraceful, dirty and unsafe."
"The number of arrivals in Greece (have) doubled since the start of the summer and this is particularly worrying because we see already overstretched facilities, really stretched to a breaking point on the islands of Chios and Samos and Lesbos, where we are operating," explained Jacqueline Hale, from Save the Children.
"This just means that the children and their parents are already in unbearable conditions, but are going to be even under increased pressure.
"We would like the EU immediately to step up its resources for the Greek authorities."
It comes amid growing tensions at the camps – with government officials saying the slow processing of requests for asylum is adding to the frustration.
Without asylum, the migrants face being returned to Turkey – where so many have made the perilous journey from, in search of a new life.
#Greece pledgesto providesheltersfor 50,000 #refugees within20days https://t.co/560o5y0LnK Compassion is#Greek. #Asylum#refugeescrisis

— TiengaN (@The_UK_Migrant) 25 March 2016

Including those on the islands, there are 57,679 migrants stranded in Greece, up from about 42,000 in March. Its shelters have capacity for 61,409.

Flows have slowed since a deal between the European Union and Turkey came into force in April. There has been a small increase in the past few weeks, but nothing on the scale of the hundreds or even thousands arriving daily last year.
UNHCR publishes map/details of migrant shelters around #Greece#RefugeeCrisishttps://t.co/71oJUJVTSqpic.twitter.com/VA0P3kAYgt

— Derek Gatopoulos (@dgatopoulos) 28 March 2016