War in Syria: Russia uses Iran airbase for the first time
Comments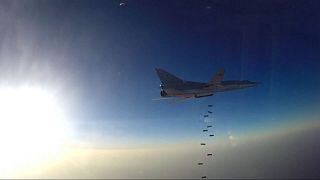 Russian military jets have taken off from a base in Iran, targeting ISIL fighters and other militant groups in Syria.
It is the first time Moscow has used the territory of another country in the Middle East for its operations in Syria, marking a clear shift in its current military campaign.
Russia's Defence Ministry said its bombers took off from the Iranian city of Hamedan, hitting the cities of Aleppo, Idlib and Deir el-zor
Moscow has also surprised many by raising the prospect of joint military action with the US, aimed at defusing the situation in Aleppo.
The Kremlin's defence minister Sergey Shoigu said:''Step by step, we are getting closer to a plan – and I am only talking about Aleppo here – that will indeed allow us to start fighting together to bring peace to this troubled land and to allow people to return to their homes.''
But Washington appears to have poured cold water on those remarks. One US official is reported to have said talks over greater cooperation with Moscow, to target extremists in Syria, are on-going and no deal is close.