Olympic ink - a marked increase in tattoos in Rio
Comments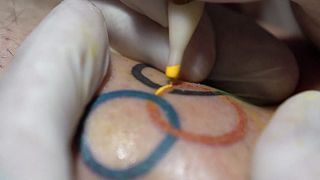 The Olympics is sure to leave a lasting impression on Brazil – and for some that will be literally true.
To show all the love I have for sports, the Olympics, how much I support Brazil
More and more sports fans in Rio can say they have skin in the game – or should that be Games – as they ink their love of the event.
The city's tattoo parlours are buzzing with new customers and inevitably the Olympic rings are a top choice.
One of the world's most recognised symbols, it is increasingly appearing on the skins of competitors.
Olympic Ink! There's no shortage of inspirational tattoos at the games this year. https://t.co/xcKAF7NyQ9pic.twitter.com/RIhwtRq9iE

— 9NEWS Denver (@9NEWS) August 10, 2016
Which has prompted fans like Ygor Zuma to follow suit.
Lying on the tattooist's work table Zuma said : "It is great to have the Olympics here in Brazil, and having a tattoo to pay tribute to this is what I really wanted. To show all the love I have for sports, the Olympics, how much I support Brazil, all of that. And I hope we get many gold medals, so we can celebrate a lot. It is an incredible experience"
The combination of so many Olympians flaunting their tattoos and Brazil's beach and body culture has meant a steady stream of seekers of permanent mementos coming into Rio's Tyosaii Tattoo Studio.
Tattoo artist Anderson Tyosaii explained: "With the Olympics here, people have been asking about themes linked to the games. A lot of people are looking for scenes of sports images and the Olympic rings, which symbolises unity of nations and people."
Brazil is already is one of the world's most tattooed nations; 40 percent of Brazilians sport one. And after the Olympics even more people will have been inked.
PHOTOS | Olympic Ink: The tattoos of the Games https://t.co/uMyIvqOTFX

—

KING

5 News (@KING5Seattle) August 7, 2016