Three dead and many evacuated in Madeira wildfires
Comments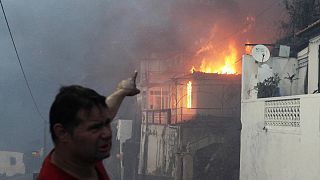 At least three people have been killed and about 1,000 evacuated after wildfires engulfed parts of Funchal, the capital of the Portuguese island of Madeira.
Officials say all of the dead were elderly.
One person is still reported missing and two others seriously hurt, while more than 300 people were treated for smoke inhalation and minor burns.
The blaze, fuelled by a summer heatwave and strong winds, has destroyed around 40 homes including a five-star hotel in the hills above the city.
Madeira's regional government says the fire in Funchal, now raging for a third day, is mostly under control, though flames continue to sweep the holiday island located off north-west Africa.
On the Portuguese mainland, thousands of firefighters are also battling hundreds of other forest fires, mainly in the north.
In Arouca, dozens of people were forced flee their homes. Soaring summer temperatures, which hit 44 Celsius on Saturday, and a long spell without significant rain have led to the regions forests becoming tinder-dry.