Portugal : Firefighters association blames politicians
Comments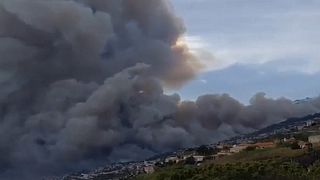 The story is the same each year. In summer, Portuguese firefighters tirelessly battle wildfires that scorch thousands of hectares of forest. According to EU data there are more fires in Portugal than in any other European country.
More than a third of the fires recorded between 2000 and 2013, in the Mediterranean region, occurred on Portuguese territory.
Thoughts today with our firefighting colleagues in Portugal, dealing with large wildfire in Funchal area pic.twitter.com/nA0RtKUUfa

— Portchester Fire St (@Portchester28) August 10, 2016
We have with us the president of the League of Portuguese Firefighters Jaime Marta Soares.
Euronews – Filipa Soares
Good afternoon. Why do we have so many fires in Portugal?
Jaime Marta Soares – President of the League of Portuguese Firefighters
For me, the problem lies in the mishandling of Portuguese forests. There's no structural fire-prevention in the forests, which are mostly uninhabited. But the cities and the areas around the industrial parks are not even protected. If we add high temperatures influenced by the Mediterranean, very low humidity rates and atypical winds, and the forest that is itself the fuel, when left untreated, this leads to fires, and it makes our country like a continuous torch.
I blame the political powers responsible for this sector, the Ministry of Agriculture, the Secretary of State for Forestry, the ICNF (The Institute for the Conservation of Nature and Forestry). They have effectively done nothing over the years to change the face of our forests.
Pic taken from space station of wildfire in Maderia today, With Reports of other large wildfires throughout Portugal pic.twitter.com/4EVCQ087su

— Portchester Fire St (@Portchester28) August 10, 2016
Euronews
Every year we're facing the same problem, that we need to invest in prevention. Why does nothing seem to change?
Jaime Marta Soares
I think there are a lot of incompetent politicians who have responsibility in this area. There are also good people working in this sector in Portugal. What we need to do is give them the freedom to develop their knowledge.
It's normal, in cases like these, that politicians, who are very good talkers, come and speak about all that is being done but most of them know nothing on the subject.
In my opinion, many of those who formed parts of several governments, not only the current one, and those responsible for the forestry sector, know nothing about what they are actually dealing with.
Euronews
What resources do the Portuguese firefighters have at their disposal? Do they have what they need to fight these fires?
Jaime Marta Soares
What can make Portuguese people proud is that – unlike the prevention and forest planning – the civil protection structure, regarding the fighting of forest fires, has evolved fantastically well..
We are at the same level as the best in Europe and worldwide. I would say that this year, we are at the top of our game with what may be very proficient measures. We have more training, more exercises, more integration with other forces, like the National Republican Guard and the Army.