Germany to announce tough new security measures
Comments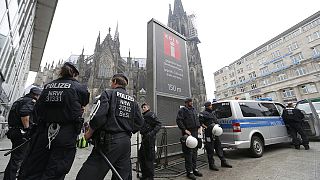 Germany continues to face a significant threat of attacks – Thomas de Maiziere
Raids in Duisburg and Dortmund
New security measures to be announced on Thursday
Germany's Interior Minister Thomas de Maiziere says the country continues to face a significant threat of attacks.
"We are living in difficult times. The terror threat is high and both the federal and state police are under strain," Thomas de Maiziere told reporters in Bremen, where he was visiting a police headquarters.
High alert
Germany is on high alert after a spate of attacks since July.
15 people, including four attackers, have been killed.
Dozens have been injured.
Police raids
Police carried out raids against suspected Islamist extremists in several towns in the west German state of North Rhine-Westphalia on Wednesday.
#BREAKING: German Police are carrying out anti-terror raids in #Duisburg, #Dortmund, #Düsseldorf & News_Executive</a> <a href="https://t.co/d7LO8SQBdN">pic.twitter.com/d7LO8SQBdN</a></p>&mdash; Total News (TotalNews_24) August 10, 2016
#Duisburg: Police carried out 2 more anti-terror raids in #Tönisvorst and #Hildesheim, no arrests reported pic.twitter.com/tPmd4b7tWQ

— I.E.N. (@GoldenKrant) August 10, 2016
There have been raids in:
A spokeswoman for the federal prosecutor says
searches were carried out at the homes of three people suspected of trying to recruit young men to fight for ISIL in Syria and Iraq.
There were no arrests.
What about last week's arrest?
A 24-year-old Syrian refugee was arrested in North-Rhine Westphalia last week.
Police say they received a tip-off that an attack was being planned in the state.
New security measures
De Maiziere is expected to propose a raft of new security measures on Thursday (August 11).
They are said to include speedier deportations and waiving doctor-patient confidentiality in some cases, according to German media.
Berlin to 'toughen anti-terror measures' after attacks: Germany's Interior Minister Thomas de Maiziere is pre… https://t.co/GcGdHFOjvr

— Patrick

BERNARD

(@29Pat) August 10, 2016