Pope visits Poland's holiest shrine: Black Madonna of Jasna Gora
Comments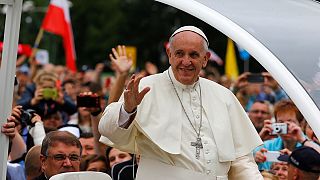 Pope Francis continued his five-day visit to Poland to celebrate World Youth Day on Thursday (July 28).
The pontiff tripped on a step as he was blessing the alter at the start of an outdoor mass for a congregation numbering in the tens of thousands.
He was helped up by his aides and did not appear to be hurt.
The mass commemorates the 1050th anniversary of the Baptism of Poland. The country is about 98 percent Catholic, and renowned for keeping its religious flame burning during decades of Communist rule.
Pope Francis prayed before Poland's holiest shrine, the Black Madonna of Jasna Gora.