Corridors to open in besieged Aleppo for civilians and rebels who surrender
Comments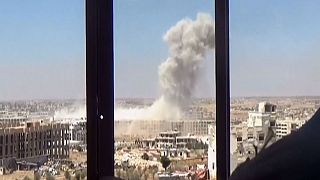 The Syrian government is to open humanitarian corridors to let civilians flee the besieged northern city of Aleppo, its ally Russia said on Thursday.
Aleppo and its suburbs are in a difficult situation, an almost critical humanitarian situation

Russian Defence Minister
President Bashar al-Assad has also offered amnesty for rebels who lay down their arms and surrender to authorities in the next three months, state media reported.
Russia said it would help set up the corridors.
"Aleppo and its suburbs are in a difficult situation, an almost critical humanitarian situation," Russian Defence Minister Sergei Shoigu told a news conference. "We're calling on all international humanitarian organisations working in Syria to join this operation."
On Wednesday, the Syrian army said it had cut off all supply routes into eastern Aleppo and the government air-dropped leaflets asking residents to cooperate with the army.
Syrian troops cut off all supply routes into the eastern, rebel-held part of Aleppo https://t.co/6hN9VH7PkY

— Al Jazeera News (@AJENews) July 28, 2016
#Syria: my statement on humanitarian access in #Aleppo. All options must be considered https://t.co/vsKs2uD5xK

— Stephen O'Brien (@UNReliefChief) July 28, 2016
Turning point?
Syrian government forces have been pummeling Aleppo with air strikes for months in a bid to recapture its rebel-held east.
The central city of Homs, with a population of 200,000, returned almost fully to government control in December following a three-year siege.
Regaining control of all of Aleppo would be the Syrian government's biggest victory in the 5-year-old civil war. Analysts say it would put the rebellion in total disarray and mark a turning point in the conflict, which has killed hundreds of thousands of people and displaced millions.
The United Nations has warned of a critical situation for 300,000 people trapped in the city. Food supplies are running out and hospitals under attack.
Syrian army attack the opposition-controlled #Mashhad district of #Aleppo with barrel bombs #Syria#AApic.twitter.com/ITujBwZZFI

— Anadolu Images (@anadoluimages) July 26, 2016
"A feeling of dread and fear that was overwhelming" An American doctor working in Aleppo. https://t.co/VzsQB6P9skpic.twitter.com/FP8JdrzGRj

—

BBC

Radio 4 (@BBCRadio4) July 28, 2016
An estimated thousand civilians have been killed in Aleppo in the past three months.
Before the war, it was Syria's largest and wealthiest city.
Drone footage appears to show Syrian regime tanks advancing on the besieged city of Aleppo. #c4newshttps://t.co/Ad9BFvL0hr

— Channel 4 News (@Channel4News) July 28, 2016
you can help Syrians trapped in #Aleppo#SyriaUnderSiege#سوريا_تحت_الحصار#Anger_for_Aleppo#الغضب_لحلبpic.twitter.com/Et0bV6EI2e

— Malktaj (@Malktaj8) July 28, 2016