Boris Johnson pulls out of race to be UK PM
Comments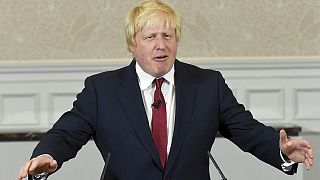 Boris Johnson has pulled out of the race to appoint the next UK Prime Minister.
I have concluded that person cannot be me
The former London Mayor had been favourite for the job after leading the successful Leave campaign in the UK's EU referendum.
Boris Johnson says he will not run for leadership of Conservative Party in Britain. https://t.co/e0UTaq5N2K

— The Associated Press (@AP) June 30, 2016
Johnson made the shock announcement to the press in London:
"But I must tell you, my friends, you who have waited faithfully for the punchline of this speech, that having consulted colleagues and in view of the circumstances in parliament, I have concluded that person cannot be me."
Who are the candidates?
Justice Secretary Michael Gove and Interior Minister Theresa May have announced they will run.
Defence Secretary Liam Fox, Work and Pensions secretary Stephen Crabbe and Energy Minister Andrea Leadsom are also thought to be standing.
Nominations closed at noon on Thursday UK time.
Fact check
Theresa May is favourite to win the Conservative leadership election, according to "bookmaker William Hill":
http://sports.williamhill.com/bet/en-gb/betting/y/12/Politics.html.
Michael Gove is in second place while Energy Minister Andrea Leadsom is in third.
The odds
Theresa May – 4/7
Michael Gove – 3/1
Andrea Leadsom – 5/1