Both Britain's main political parties seem headed for leadership battles
Comments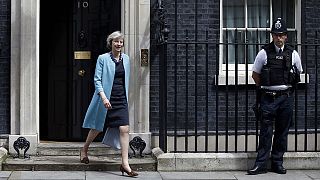 The battle to elect a replacement for David Cameron as leader of Britain's ruling Conservative Party and hence as prime minister is underway with nominations to be submitted by noon today.
So far few MPs have officially entered the race although Home Secretary Therese May appears to have unofficially launched her campaign via The Times newspaper. Although she favoured remaining in the EU, opinion polls put her ahead of the victorious "Leave" camp leader Boris Johnson. Popular among many voters on both sides of the political divide he's certain to confirm his challenge shortly.
Martin Wolf: Here's what a Prime Minister Boris Johnson should do next
https://t.co/QAefDFuxekpic.twitter.com/zom3lpwv5M

— Financial Times (@FT) June 28, 2016
Work and Pensions Secretary Stephen Crabb has already announced his candidacy and others may follow including former defence Secretary Liam Fox.
Meanwhile David Cameron has piled on the pressure to get opposition leader Jeremy Corbyn to quit, during a questions and answer session in the House of Commons.
"It might be in my party's interest for him to sit there, it's not in the national interest and I would say 'For heaven's sake, man, go'."
Corbyn, who is a veteran hard-left Labour MP, is unpopular with many parliamentary colleagues who passed a motion of no confidence in him this week. Many are angry at their leader for what they see as his lacklustre performance in the "Remain" campaign.
Bye bye, Jeremy: https://t.co/6sTSxxhic3 (told you so, dint I?)

— fleetstreetfox (@fleetstreetfox) June 26, 2016
But Corbyn commands strong support among party activists and so far he is refusing to step down.
But that doesn't seem to be stopping Labour MP Angela Eagle who says she intends to announce a leadership challenge against Corbyn today.