Kuczynski 'wins' Peruvian election, but Fujimori refuses to concede
Comments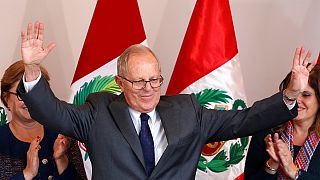 Pedro Pablo Kuczynski appears to have won a narrow majority in Peru's presidential election.
With all the ballot papers now counted, the centrist economist seems to have beaten opponent Keiko Fujimori by 41,438 votes, with an expected majority of 50.12 percent.
"This virtual verdict, we take with a lot of modesty. Because Peru has large challenges ahead. And we want a united country that is conciliated, and ready for dialogue," said Kuczynski.
Some 173 votes are being contested and recounted, meaning the outcome is expected to remain the same.
But right-wing populist Fujimori refuses to concede, for now.
The daughter of imprisoned former President Alberto, won the first round and polls had suggested that she had a comfortable lead in the second leg. If she had won, she would have become Peru's first female president.
Some 23 million people were registered to vote in the poll that will see outgoing president and former army officer Ollanta Humala replaced.