A man of Peruvian politics Pedro Pablo Kuczynski
Comments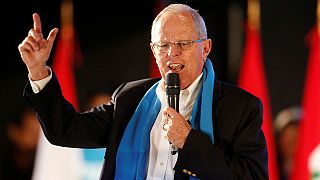 Former Peruvian prime minister edro Pablo Kuczynski is the cousin of Franco-Swiss filmmaker Jean-Luc Goddard.
A renowned economist he left the World Bank to become a consultant for President Fernando Belaunde and fled Peru following the 1968 coup.
He returned in 1980 and joined the second presidential campaign of Belaunde. Upon election the new president offered Kuczynski the energy portfolio.
Pedro Pablo Kuczynski "Mi contrincante sacó la ametralladora hecha por Montesinos" (VIDEO)… https://t.co/6lMHwURdSHpic.twitter.com/dkqzbcVNpU

— 757Live Peru (@757LivePE) May 24, 2016
He left politics in 1982 and set up the NGO Agua Limpia financing clean water systems in impoverished areas in Peru.
He now leads the Peruvians for Change Party.
[#FOTOGALERÍA] Así fue el cierre de campaña de Pedro Pablo Kuczynski (#PPK) en Arequipa ►https://t.co/cDg88xXYFZpic.twitter.com/6JHd3Il5ei

— Política El Comercio (@Politica_ECpe) June 3, 2016
During the campaign he never failed to take a swipe at the jailed former president Alberto Fujimori, father of Keiko, his opponent for the presidency: "Regrettably, in her father's government there was a lot of corruption, and that was one of the reasons why he is serving a 25-year jail sentence."
PPK, as he is known, wants to overhaul the police and judiciary, increase the minimum wage and cut red tape related to business.