Peruvian presidential election too close to call
Comments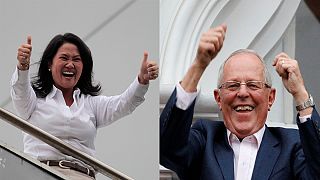 The candidate of the centre-right appears to have the slimmest of leads in Peru's presidential election.
Pedro Pablo Kuczynski , a 77-year-old economist, is a former prime minister who, if he wins, will have to face a congress dominated by the opposition.
With just over half the votes counted the result remains too close to call, although poll analysts say they expect a narrow win for Kuczynski, although there is only about a single percentage point difference between him and the challenger.
At 41 Keiko Fujimori is taking a second stab at Peru's top job, and should she win she would be the country's first female leader.
Her father was a former president, but he is now in jail for corruption and human rights abuses. Fujimori's party controls congress, but domestic politics is complicated by a third left-wing party that refuses to align with either of the big two.