Istanbul fearful after fourth bomb attack this year
Comments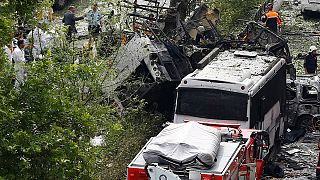 Turkey's President Erdogan has condemned the latest bomb blast in Istanbul targeting police as an "attack against humanity".
The car was detonated as buses carrying security forces passed by, killing eleven people and wounding three dozen as it blew up near the main tourist area and a major university in the Turkish city.
One witness described the impact as like an earthquake.
There was no immediate claim of responsibility but previous similar attacks on the security forces have been carried out by Kurdish militants.
The bus that bore the brunt of the blast was tipped onto its roof; a second vehicle was also damaged. They had been carrying members of a riot police unit.
The authorities said seven of those killed were police officers. Four were civilians.
President Erdogan, visiting some of the 36 injured in hospital, said Turkey would continue its fight against the terrorists "tirelessly and fearlessly".
Shop owners quickly set about repairing the damage. The windows of a mosque were also shattered and debris was showered over nearby streets.
It is the fourth major bombing in Turkey's biggest city this year. Last month several people were injured in another attack.
Very sad, dark & cruel day in beloved city.
Yet another bomb attack,our hearts go out to the families of the victims#Istanbul is mourning

— Elif Şafak / Shafak (@Elif_Safak) 7 June 2016
Thoughts with the victims of today's #Istanbul bomb attack. The UK utterly condemns this senseless & appalling act of violence.

— Philip Hammond (@PHammondMP) 7 June 2016
One eyewitness told Euronews: "Of course I'm worried because people go to work here everyday. Our civilians died, our police are dying. I don't know how they are going to kill off terrorism but they need to do so."
"We immediately said it must be a bomb attack, it can't have been just thunder or a plane or something. Only after that did we hear what happened in the news. But given the current situation here, we knew that it was possible that something would happen. This kind of thing can happen anytime here in Istanbul," said German tourist Christian Gross.
The Turkish president has hinted that he believes Kurdish militants were responsible. Other previous attacks have also been blamed on radical leftists and the so-called Islamic State group.
Euronews correspondent Bora Bayraktar reported from Istanbul: "Two and a half months after the last bombing, this latest deadly attack has put terrorism back to the top of the agenda again. Police are trying to figure out who is behind the terrorist attacks and to shed light on these events."
Thoughts&prayers go out the victims, their families and the city of #Istanbul. Inna li llahi w inna ilaayhi raji'un pic.twitter.com/91IWjZbJPO

— بثينة العزابي (@Boutaina) 7 June 2016