Turkey 'will boost military response' after Ankara bombing
Comments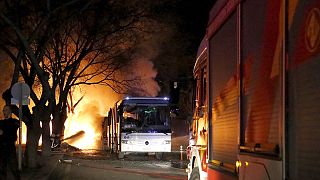 Wednesday's car bomb attack only a few hundred metres from the parliament in the capital Ankara was a strike at the heart of the Turkish government.
The message from the militants who carried it out was undeniable: we have the capability to strike anywhere.
The government was quick to announce that a Syrian Kurdish national had carried out the bombing working alongside a Kurdish militia.
That group, the YPG, has the backing of the US as they both fight the self-styled Islamic State in northern Syria.
The government also said the outlawed Kurdistan Workers' Party was involved and said it had a right to retaliate.
Euronews correspondent in Istanbul Bora Bayraktar spoke with Atilla Sandıklı, an International relations analyst at Haliç University.
Atilla Sandıkli: "When we look at the precise location of the attack it is clearly a strike at the heart of Turkey, the seat of government, the commanders of the Turkish armed forces are also located there.
The offices of the president are close by. Ankara is the heart of Turkey, it is the country's most sensitive area. The message this sends out is that the terrorists can strike this country at its heart.
It is not the only message, it is a reminder to Turkey from the countries that support these groups, the countries that are using them in the proxy war. That is how I would interpret it."
Bora Bayraktar: "Will Turkey stop its military activity in Syria after this?"
Atilla Sandıklı: "No, quite the opposite, Turkey launched an air attack on 60 to 70 high-ranking members of the PKK in Haftanin in northern Iraq, in response, because Turkey believed they were responsible for it.
I don't believe that Turkey will undertake a major operation alone. But Turkey will raise the issue and claim that the PYD (Democratic Union Party), the Syrian affiliate of the PKK, is a terrorist organisation like the PKK or ISIL and the attack is proof of that. The West considers them a moderate force on the ground in Syria.
Turkey can raise the hardware for a ground operation by providing forces or by supporting a joint Saudi Qatari initiative for a land operation against ISIL.
Turkey will stress the PYD point, because the US says it is cooperating with the PYD, because of a lack of alternatives in Syria.
But if Turkey can provide an alternative, despite that fact it is late in the conflict, I think Turkey will go for it."