A year so far of serial attacks on Turkey attributed to the outlawed PKK and so-called Islamic State
Comments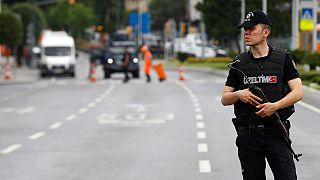 Turkey has for several months been on high alert with the long running Kurdish conflict erupting again after hopes it was close to resolution.
On February 18 hunter-bombers took off from Diyarbakir to strike at PKK camps in northern Iraq.
The day before in Ankara a car bomb, targeting a bus carrying military personnel killed at least 28 people, 27 of whom were soldiers. It was claimed by the Freedom Falcons of Kurdistan – TAK – a radical group affiliated to the outlawed PKK.
A few weeks later on March 13 TAK struck again as the radical group said it was behind a car bomb which caused carnage in the centre of Ankara close to the Ministries of Justice and Interior. Authorities say at least 37 people died as a result of the blast.
This year up until June 7 there have been 12 attacks nine of which have been claimed by or attributed to the militant PKK group.
A total of 85 people have been killed. Apart from the two in Ankara and one in Bursa, in which no one was killed most have been concentrated in the Diyarbakir region.
The deadliest of those was a car bomb which killed seven police officers at the end of March. It was claimed by the HPG the military wing of the PKK
The attack took place a day before the prime minister was due to visit what is the biggest city in the largely Kurdish southeast of the country.
In a direct response to the militant group Turkey's President Recep Tayyip Erdogan made it clear he would not negotiate with the PKK in the shadow of these threats.
"The terrorists can choose two paths: they will either surrender and accept the ruling of the judiciary or they will be neutralised one by one in the holes in which they are trapped. There is no other way for them," he said on April 4.
Among the 12 attacks between January and June this year three were claimed by or attributed to the so-called Islamic State. A total of 19 people were killed in them. ISIL struck twice in Istanbul and once in Gaziantep all three were carried out by suicide bombers.
In the first on January 12 this year at least 10 tourists were killed eight of whom were German in Sultanahmet Square the historical centre of Istanbul one of the world's most visited cities.
Two months later on March 19 a suicide bomber blew himself up in a busy shopping area in the heart of Istanbul. Four foreign tourists were killed. Eleven Israelis were among those who were injured.
May began in Turkey with more deaths. Three police officers were killed by a car bomb close to the border with Syria. Ankara said the attack was the work of ISIL. Turkey has been caught in attacks from two fronts.